Book Guided Tours of St Pauli Hamburg
Contents
Nestled along the Elbe River's edge, St. Pauli Hamburg is a bustling neighbourhood that has earned a global reputation as an entertainment epicentre, thanks to its iconic Reeperbahn. From its maritime heritage to The Beatles' early footsteps, St. Pauli beckons adventurers with a promise of captivating experiences around every corner. For an unforgettable exploration of this famed district, opt for a guided St. Pauli tour to fully immerse yourself in all it has to offer.
Why take a St Pauli Tour?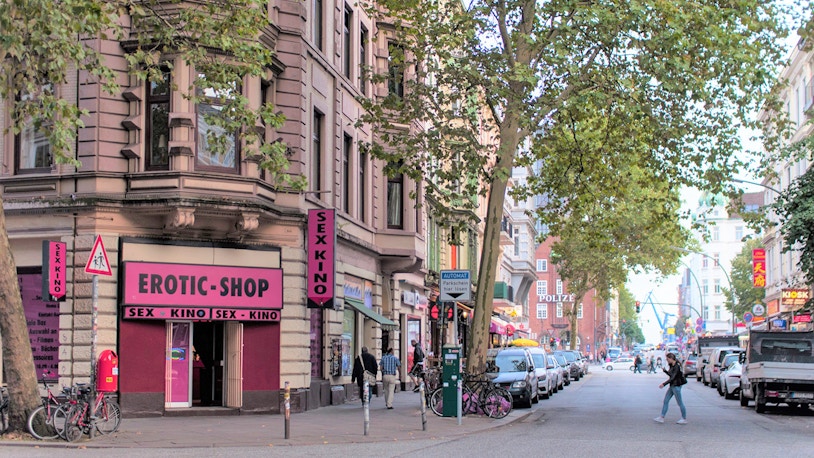 Immerse in St. Pauli's intrigue: Embark on a journey through the legendary Reeperbahn, Davidwache, and Herbertstraße, where hidden secrets, scandals, myths, and history come to life.
Knowledgeable guides: Engage with a bilingual (German/English) guide who will regale you with fascinating facts about the red-light district, deepening your understanding.
Toast to tradition: Enjoy a complimentary beer (plus a short drink) at the iconic "Zur Ritze" bar, where legends like Mike Tyson and the Klitschko brothers once trained in the boxing cellar.
Exclusive insights: Gain access to insider tips and exclusive discounts for the hottest clubs and discos, ensuring your night continues to pulse with excitement.
Historical immersion: Delve into the rich history of St. Pauli and discover why the Reeperbahn holds such significance to the people of Hamburg.
Small-group exploration: Traverse the ancient Reeperbahn in an intimate setting, allowing you to soak in the diverse facets of this renowned district and its captivating tales.
St Pauli Guided Tour Options
Highlights Covered on Your St Pauli Guided Tour
Reeperbahn
Step onto the electrifying Reeperbahn, where neon lights illuminate a vibrant array of pubs, bars, restaurants, and nightclubs. Known as the "Sin Mile," it also houses strip clubs, erotic theaters, sex museums, and brothels, creating an unforgettable atmosphere.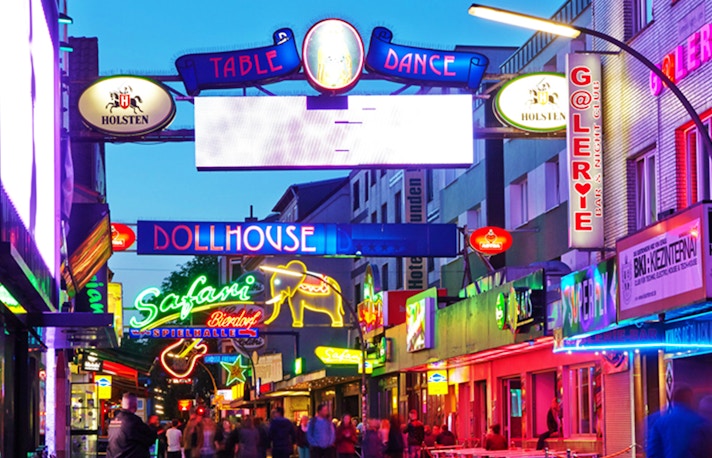 Große Freiheit
This captivating street, famous for explicit and erotic theaters, is a must-visit. Its claim to fame includes hosting the Beatles at various clubs, marking the start of their legendary career.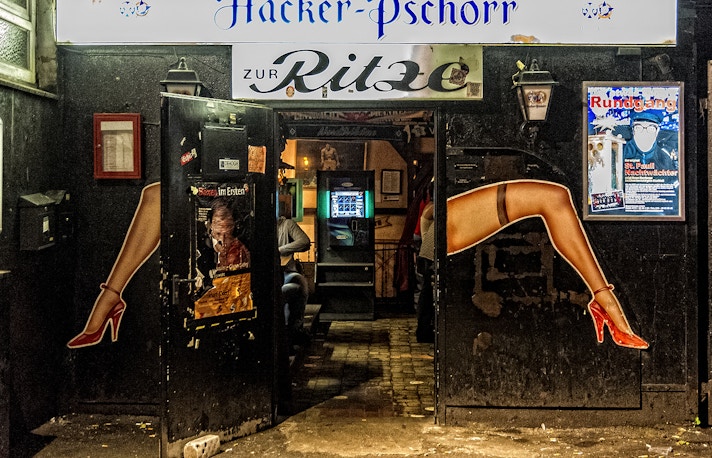 Zur Ritze Pub
For boxing enthusiasts, the Zur Ritze bar is a standout. It's where boxing legends like Mike Tyson and the Klitschko brothers honed their skills. The bar exudes a retro charm with rustic seating and boxing memorabilia, making it a favorite haunt for local celebrities.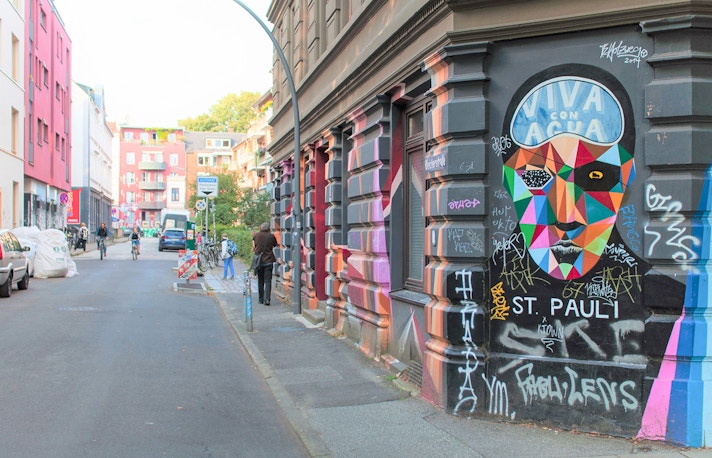 Kiez Neighbourhoods
Explore the iconic Kiez neighborhood, especially the red-light district, to gain insight into the lives of prostitutes and the legal aspects of their profession. Immerse yourself in the colorful, eccentric, and wild experiences of this unique district.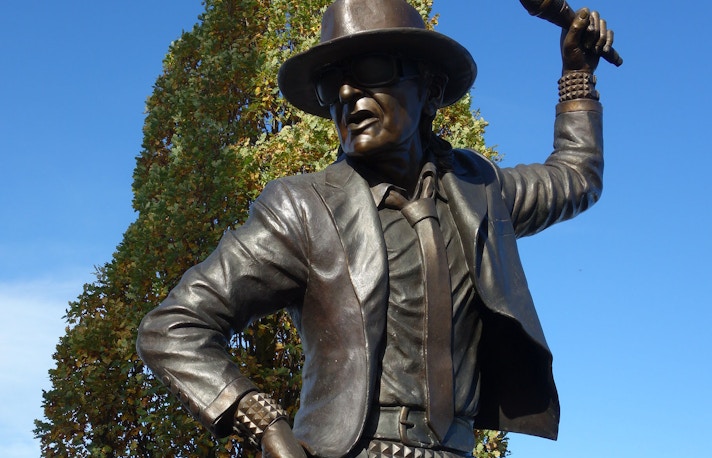 Udo Lindenberg's Home
The renowned German singer, composer, and drummer, Udo Lindenberg, resided at the Hotel Atlantic Kempinski for 26 years. While he moved out in 2021, you can still admire his exquisite paintings displayed on the walls of the Atlantic resort.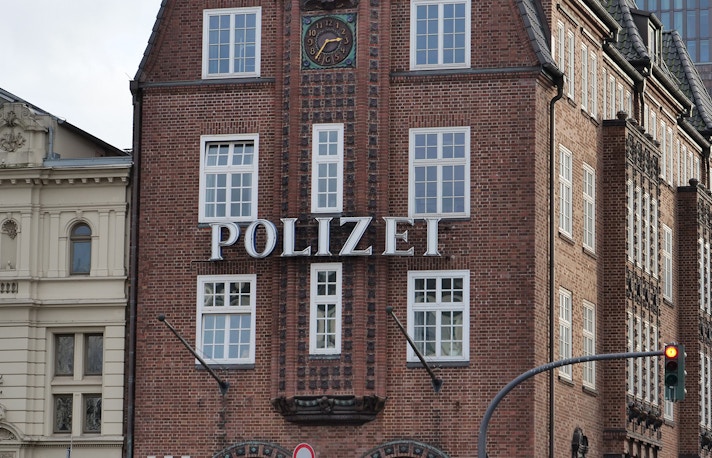 Davidwache Police Station
Visit Europe's smallest police precinct, a German cultural icon. Featured in TV series and movies like "St. Pauli Nacht" (1991), this station even earned Hamburg's Building of the Year award in 2005. Explore its intriguing history during your St. Pauli guided tour.
All Your Questions About St Pauli Guided Tours Answered
Can I book a St Pauli guided tour?
How can I book the St Pauli guided tour?
We recommend purchasing the tickets online for a hassle-free experience. You can purchase the tickets here.
How much does the St Pauli guided tour cost?
The price ranges from €22 to €43 depending on the kind of tickets you choose. You can purchase the tickets here.
What are the different types of the St Pauli guided tours?
There are various types of St Pauli tours – Red and Blue Light Reeperbahn tour, St Pauli Nightlife tour and Elbphilharmonie Combo tour.
In what languages are the St Pauli guided tours?
What does the St Pauli guided tour cover?
The St Pauli guided tour covers the most popular landmarks of St Pauli and the red-light area of Reeperbahn.
How many people can go on the St Pauli guided tour?
While the group size varies from tour to tour, most St Pauli guided tours allow a small group of people.
Is the St Pauli guided tour worth it?
Absolutely, the St. Pauli guided tour is worth it. It provides deep insights into the district's history, culture, and vibrant nightlife, offering a memorable and immersive experience.
Can I cancel a booked St Pauli guided tour?
In most cases you can cancel up to 24 hours before the guided tour for a full refund. Some combo tickets don't allow cancellation. Please check your tickets for more details
How long is the St Pauli guided tour?
The St Pauli guided tour lasts for 2- 3 hours, depending on the tour you choose.